Luxury Spa Days Torquay
A great selection of truly blissful days just for you...
Our spa day packages in Torquay range from our half-day Spa Ritual treatment that includes a facial and massage all the way to our Perfect Spa Day where you will be truly pampered by our team of professional massage therapists & beauty technicians. Our luxury spa days take full advantage of our spa facilities in Torquay with treatments such as full body exfoliation, facials and our signature hot stone massages.
Find Out What Our Spa Days Have To Offer
When it comes to offering the perfect spa day to our customers in Torquay, we are the experts. We offer private, ladies only spa facilities that are entirely exclusive to our resident and day guests. You can enjoy your day in complete luxury and feel pampered without the crowds. Our spa is the perfect way to indulge yourself in amazing spa treatments in one of the most peaceful & elegant surroundings, completely unhampered by the stresses of your daily life.
When you visit our beautiful spa, you will experience a wide range of traditional treatments as well as cutting edge therapies that we know will leave you feeling pampered, revitalised and relaxed.
Our spa days include a selection of wonderful spa treatments that really utilise all of the ladies-only spa facilities we have such as the spa pool, steam room, sauna, outdoor heated swimming pool and our beautiful relaxation room! All of this and more will make your day special. In addition, we provide soft fluffy robes, towels and slippers to give you that much-needed comfort between your spa treatments. Enjoy a delicious lunch too, we include amazing refreshments and food for all of our spa day packages throughout the day and on arrival.
Arrival for all our full Spa Days is 9.30am or 10.00 am with your day finishing at about 3.30 to 4.00pm. The "Spa Ritual" is a half-day and can be booked to start at 10.00am or 1.30pm .
Full details of each day can be found by clicking  the images below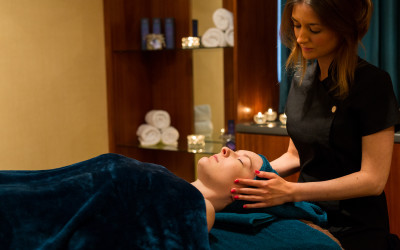 Treatment time: 2 hours 35 mins
Includes use of spa facilities, a delicious Lunch, a Full Body Exfoliation and three 45 min treatments:
Spa Days
We are offering all of our lovely Spa Days once again however we are still reducing guest capacity. We are also unable to take Spa Day Bookings on a Sunday for the time being.
This is not a decision that we have taken lightly but we feel that in order to keep everyone safe and well it is a necessary move. We will continue to review the situation.