Group Bookings
The Lorrens Ladies Spa is the ideal place to celebrate any special occasion and our wonderful Spa Days offer the perfect solution for a group wanting a special hen day, birthday celebration or family get-together. It's an extra-special way to escape and relax with family and friends or to motivate and reward staff or colleagues.
Why not let us organise a fantastic bespoke package especially to suit your group's needs and budget. We can tailor one of our existing days or put together something really unique and special just for you. And don't forget, for that special finishing touch to your day you can add a night's stay in one of our lovely rooms to complete the ultimate spa package. We can even arrange the perfect weekend of pampering for you.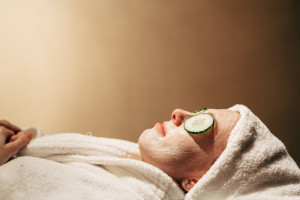 Private Hire with "Exclusive-Use"
Looking for the perfect private celebration? Searching for the ultimate "house-party"? Our Private Hire Packages are the ideal solution for a relaxed, stylish and unique occasion with friends, family or colleagues. Just tell us your date, how many in your group and what type of treatments you like and we'll do the rest.
You have it just the way you want; we'll arrange your treatments, gowns, towels, slippers; we'll also arrange your food and even your rooms if you want them…you just have a great time and a whole spa to yourselves!
Extended Spa Ritual (with optional overnight stay):
Group Size
8-12 Guests
Hours
Exclusive use: Arrival:        10am Depart:         3.30pm       (10am following morning with overnight stays)
Treatments
2 x 30 mins per person:
Choose from – mini Spa Hand Treatment, mini Spa Foot Treatment, Thalgo Discovery Facial, Shiatsu Head & Face Massage, Anti-Stress Body Ritual or Back & Leg Massage (with or without Hot Stones)
(Add an extra treatment for just £30.00 per person)
Food and Drink
Refreshments on arrival and at end of day
Lovely Hot Lunch
Breakfast with overnight stays (an evening meal can also be booked)
Complimentary robes, towels and slippers are provided for your use.
Prices
Monday to Friday        from £85pp                 (with overnight stay     from £145pp)
Saturday                      from £90pp                (with overnight stay     from £155pp)
The cost of packages vary dependent upon the size of group and types and numbers of treatments desired. Please remember, for full private hire, sufficient advance notice will be required so that you get the dates that you would like.